The senior staffers are the employees who hold the most authority within Amagi Brilliant Park. In episode 3 it was shown which employees where senior staffers, because they attended the important board meeting. It's important to note that there is a slight dissonance between who is a senior staff member in the anime and manga. For example, in the manga Muse attends the board meeting however in the anime she is not present. Many of the senior staffers are fairies, however some of them such as Okuro are human.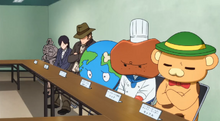 Ad blocker interference detected!
Wikia is a free-to-use site that makes money from advertising. We have a modified experience for viewers using ad blockers

Wikia is not accessible if you've made further modifications. Remove the custom ad blocker rule(s) and the page will load as expected.