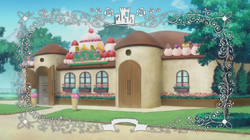 Moffle's Candy House is a shooting gallery attraction starring Amagi Brilliant Park's star mascot; Moffle.
Home of Moffle, the fairy of candy and Amaburi's star mascot. Eating his sweets will fill you with hopes and dreams. Located within Sorcerer's Hill.
Guests are invited to use water pistols to punish a horde of mice that have invaded Moffle's kitchen and begun eating his candy supplies. At the end of the game, guests are given the opportunity to have a photo taken alongside Moffle himself as a thank you for clearing his house of the vermin rodents.
On his introduction of the game, Seiya notes that the intro of the game says to "punish" the mice but the end of the game says that the guests were actually killing them.\
The shoot gallery has four difficulty settings (easy, normal, hard and insane). The insane difficulty is said to be so difficult that it has driven some guests crazy. The setting Seiya played during his introduction was on easy.
Ad blocker interference detected!
Wikia is a free-to-use site that makes money from advertising. We have a modified experience for viewers using ad blockers

Wikia is not accessible if you've made further modifications. Remove the custom ad blocker rule(s) and the page will load as expected.