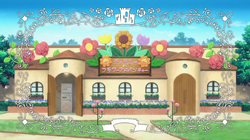 Tiramy's Flower Adventure is a "tunnel-of-love" gondola attraction starring the Amagi Brilliant Park mascot, Tiramy; the fairy of flowers.
Home of Tiramy, the fairy of flowers. Guests embark on a heart-cleansing train journey to a world of love and joy. Located within Sorcerer's Hill.
During Seiya's introduction trail of the park, the attraction was run-down, with the staff being unenthusiastic, the robot flowers in miss-repair and the train tracks being out of alignment. In addition to Tiramy himself not being present.
Rumor has it that Tiramy had also been offering "Backstage Tours" of the ride to female guests. Seiya presumably had these "tours" shut down upon hearing of them.
Ad blocker interference detected!
Wikia is a free-to-use site that makes money from advertising. We have a modified experience for viewers using ad blockers

Wikia is not accessible if you've made further modifications. Remove the custom ad blocker rule(s) and the page will load as expected.